While there are many things to anticipate over the holidays, many people are most excited about the food. How can you help it when you're surrounded with handmade pecan pie and sugar cookies?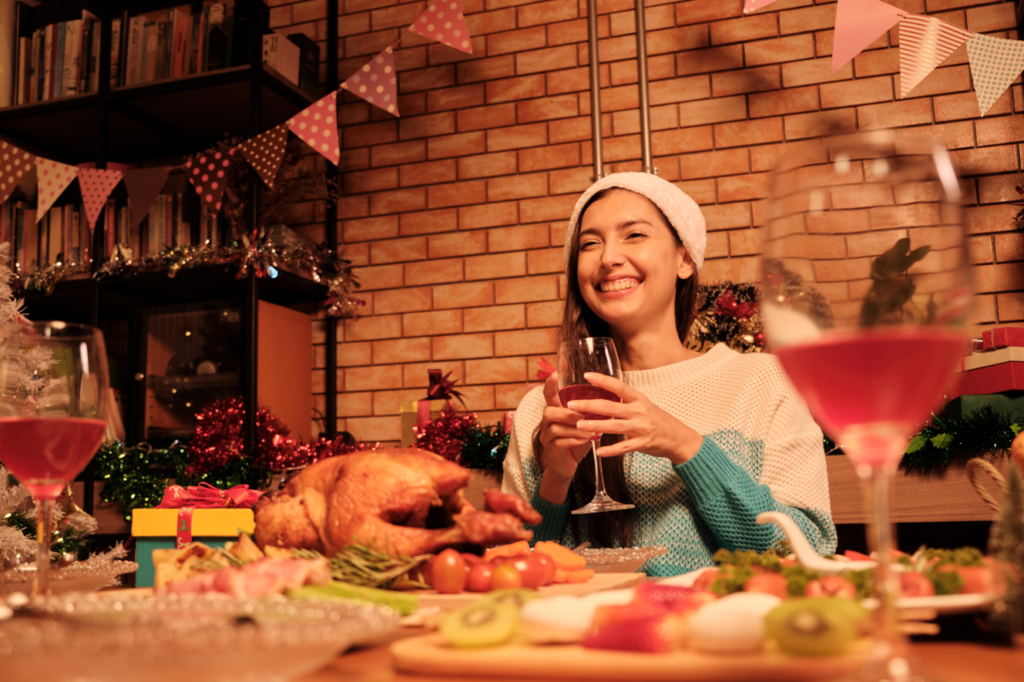 The holidays are a time to celebrate and spend with your family. Traditionally, they're also a time to indulge in some of your favorite foods that aren't normally part of your diet. Though Christmas is practically synonymous with cookies, candy, and fatty foods, staying on track with your health goals doesn't mean you can't indulge in your holiday favorites.
A slice of pumpkin pie or a mound of mashed potatoes once in a while won't ruin your diet. However, overindulging in holiday cuisine throughout the season can make managing chronic diseases like obesity, diabetes, and hypertension more challenging. With your corporate Christmas party, family gatherings, and friendly get-togethers, the chances of gaining a few pounds around the holidays seem limitless. It can be even more challenging to make healthy food choices if you go into the holiday season unprepared. It's easy to become overwhelmed by unhealthy food temptations around the holidays, so we've compiled a list of suggestions and swaps to help you maintain a healthy lifestyle in the coming weeks.
Try These Holiday Food Alternatives and Swaps
You're not alone if you gain weight over the holidays. Several studies have found that the Christmas season, which runs from the latter week of November to the first week of January, is a time when many adults gain weight.
Don't think that if you want to eat properly and stay in shape, you have to give up all of your favorite holiday treats. Traditional Christmas favorites may be both delicious and wholesome with a few simple modifications.
Some substitutions are obvious, such as drinking a glass of red wine instead of high-fat eggnog, while others, such as preparing equally tasty green bean almondine instead of green bean casserole, are less evident but very beneficial. So, before you go to the holiday buffet and make some questionable decisions, prepare yourself with a list of recommendations to assist you get through the season.
Here are some healthy holiday cooking ideas that don't sacrifice flavor:
Sour Cream with Greek Yogurt
Many holiday meals, such as mashed potatoes, dips, and sauces, call for sour cream. It's wonderful, but it's not very nutritious and contains a lot of saturated fat. Full-fat dips should be avoided. Instead, eat a yogurt dip. No one will notice if you use low-fat or nonfat plain Greek yogurt or nonfat sour cream instead of regular sour cream in all of your dishes this season.
To put things in perspective, consider the following: Sour cream has roughly 60 calories per ounce. Nonfat plain Greek yogurt has 15 to 20 calories per ounce, while nonfat sour cream has roughly 25 calories per ounce. Even a few modest scoops can save you a lot of money.
During the holidays, there are plenty of cheese and cream-based dips to choose from, but Lauren recommends hummus instead. Compared to a cream cheese dip, this crowd-pleasing spread has fewer calories and fat.
Sour cream can be replaced with plain Greek yogurt to reduce calorie intake. Greek yogurt-based dips are also lower in fat. Greek yogurt is high in protein and calcium while providing you with a healthy dose of probiotics as well as the creamy texture you crave.
Heavy Cream with Coconut Milk
Use coconut milk instead of heavy cream if you're creating a cream-based soup or casserole. Without compromising taste or creaminess, this one simple substitution will lower your calorie intake in half.
Applesauce (unsweetened) for Oil
When baking, using unsweetened applesauce for oil can help reduce fat and calorie intake. Without adding any fat to the recipe, applesauce has an extraordinary capacity to keep baked goods moist. If you don't have applesauce, mashed bananas will suffice.
Cauliflower Mash for Mashed Potatoes
If you haven't tried cauliflower yet, you'll be astonished at how tasty it can be. The texture of mashed cauliflower is similar to that of mashed potatoes, however it contains significantly fewer calories.
You can use it as a substitution and serve or eat mashed cauliflower instead of mashed potatoes. Because it replaces a starchy vegetable with a non-starchy vegetable, this simple transition lowers the glycemic load significantly. In addition, mashed cauliflower has more fiber and minerals than mashed potatoes.
This is a far healthier solution that won't change the flavor or consistency of the food. Additionally, it contains nutrients including vitamin C, which support a healthy immune system. If you don't want to make a complete change, just replace half of the potatoes with cauliflower; no one will notice!
White bread can be replaced with whole-grain bread.
Simply using 100 percent whole-grain bread in your stuffing recipe will improve the fiber, antioxidants, and minerals in this popular side dish. While the dish may change from the conventional form in appearance, you'll still get the same delicious flavor.
Appetizers
Try serving or reaching for shrimp cocktail instead of fried appetizers. There's nothing like a delicious potato puff, but those small fried finger snacks may quickly pile up in calories. Holiday guests are likely to want to snack before a dinner, so serve shrimp cocktail instead. The protein-rich shellfish is highlighted in this appetizer, and pair it with a spicy cocktail sauce.
Casserole With Green Beans
By adding more green beans and less filler ingredients, you may get more of the healthy ingredient while maintaining the traditional flavor. Use a low-sodium soup and skim milk instead of evaporated milk. Or consider replacing the traditional high fat dish with a fresh and nutritious side dish like Green Beans Almondine.
Sweet Potatoes
Sweet potatoes are a delicious and nutritious addition to any holiday meal. If you have an option, sweet potatoes should be chosen over white potatoes. While white potatoes provide some potassium and fiber, sweet potatoes are the nutritional champions. A large sweet potato has about 4 grams of satiating protein, 25% of the day's belly-filling fiber, and 11 times the recommended daily vitamin A intake. Plus, there's more. It has a calorie count of less than 200.
Most sweet potato casseroles, however, contain marshmallows, brown and white sugar, and a lot of butter. This is a simple problem to solve: Choose one of the toppings. Choose one sugary topping instead of all of them for a pleasant treat that feels like a dessert but doesn't derail your health goals.
Meat
When you choose to eat white meat instead of dark meat, you consume less fat and fewer calories. The palm of your hand should be the size of a serving of protein. The holidays don't have to be a cause of unwelcome weight gain if you watch your portions.
Gravy
1 cup fat-free turkey broth, 2 tablespoons flour, and seasonings to taste make delicious gravy. Remove the fat from the roasting pan drippings if you still wish to use them. Skim off the fat that rises to the top with a fat separator cup or by freezing the drippings for 10 to 15 minutes.
It's also worth noting that with gravy, portion control is especially vital because it's difficult to measure how much is ingested. Calories can easily pile up.
Beverages
Sugar is abundant in sodas. The average 20 oz drink has 15-18 teaspoons of sugar in it. That's more than double the CDC's daily recommendation. Think about the amount of sugar we take in when we drink a few of them.
It's tempting to overindulge in sugar during the holidays, so instead of drinking hot chocolate with whipped cream, brew a cup of cinnamon tea. This warming tea may even assist lower blood sugar levels due to cinnamon's blood glucose-lowering properties.
If cinnamon isn't attractive to you, try unsweet black tea or water instead of soda. They offer a delightful and filling alternative that significantly reduces the risk of health problems and undesired weight gain.
Spirits and Cocktails
Because alcohol is metabolized into sugar, drinking alcoholic beverages directly increases sugar intake.
If you prefer to drink alcohol at parties (or while you are socializing during the holidays, try a glass of wine or a spritzer to keep liquid calories under control. In addition to having less calories than most alcoholic beverages, red wine includes resveratrol, an antioxidant that is thought to improve heart health by preventing blood vessel damage and lowering "bad cholesterol." Because drinking is such an important part of the holiday season, knowing how to indulge without gaining weight is essential.
Alcohol consumption should be kept to a minimum in order to maintain good health. Every other drink, have a glass of water. This helps to reduce calorie consumption while also preventing dehydration.
Eggnog
Although eggnog is a popular holiday drink, it is also a nutritional disaster. A glass of eggnog might easily have more than 250 calories and more than half of your daily saturated fat allowance. That's 19 grams of fat, and 21 grams of sugar, which is nearly the daily recommended amount of sugar.
Replace eggnog with a glass of hot apple cider to save 100 to 150 calories and all of the fat. If you can't imagine a holiday without eggnog, try making your own with egg substitute instead of eggs, fat-free milk instead of whole milk, and sugar substitute instead of sugar – you can still add vanilla and spices. If you don't drink alcohol, you'll save even more calories.
Another option to replace that cup of eggnog is to opt for champagne, which contains significantly fewer calories and fat.
Champagne is consumed more slowly than other alcoholic beverages due to its bubbly nature, so you won't be consuming hundreds of useless calories. Keep in mind though that carbonated beverages might cause bloating.
Plan Ahead to Eat Healthy During the Holidays
It's easier said than done to maintain a healthy eating habit throughout the holidays, but it's not impossible. If you plan ahead, you may enjoy your favorite holiday meals while staying on track by substituting healthy ingredients. Here are some suggestions to help you make memorable holiday memories while staying on track with your healthy eating goals!
Holiday health problems aren't only about gaining a lot of weight in a short period of time. Between Thanksgiving and New Year's Day, the average American gains only one or two pounds. The issue is that most people never lose the weight they gain. This weight might accumulate over time. You could have gained 10 pounds or more in just 5 years. Avoiding weight gain in the first place is the greatest method to avoid this having an impact on your health.