Jodi Grinwald, CPC, ELI-MP is the host of the Today is the Day Changemakers Podcast. On July 28, Victoria Magliacane was a guest on her show having a conversation about How To Find A Healthy Work/Life Balance.
Hello everyone and welcome to another episode of the today's the day changemakers podcast. I am Jody Grunwald this week my guest is Victoria Magglio cane, Victoria is Senior Vice President for Investors Bank and a certified integrative health coach for Lavender Lifestyle LLC,
Victoria was born and raised in New Jersey, from her first job serving burgers to a long career in banking, Victoria speaks about the importance of always providing superior customer service and building strong community relationships. She thought she would make a pitstop in the 80s long her professional journey to work for a bank, but her pitstop became her career. She climbed the ladder an investor's bank and is responsible for leading a team of over 300 employees over multiple counties in New Jersey.
After working 24/7 and really not saying no to too much, she didn't realize that she may be experiencing burnout. A little over two years ago she experienced chest pains and waited to go to the hospital. A week later she finally went to the ER to hear them say that she had experienced a heart attack, and possibly more than one. She is very lucky to be here with us today.
After this experience Victoria felt a calling to share her story and become a certified integrative health coach. She explained that she feels there was a gap between Western medicine, and the patient. She wanted to be able to not only share her story but also provide support and guidance to help others who may be dealing with health, stress and sleeping challenges. That is when Lavender Lifestyle, LLC was born. Go to lavenderlifestylellc.com to learn more about the services that Victoria offers to her clients. Please subscribe to the Today's The Day Changemakers YouTube channel ,stream this podcast on all streaming sites, like us on Facebook and Instagram. Today is the Day Live It also go to todayisthedayliveit.com to learn more about my coaching and consulting services, and check out applaudourkids.org the not for profit organization that I am the CEO and co founder of that is making a difference in the lives of children with financial barriers, we're looking for an ongoing creative connection to the performing arts. Have a great week everyone.
Hey everybody, this is Jodi Grunwald and welcome to another episode of the Today's The Day Changemakers Podcast. Every week I get to interview the most amazing and incredible people who are changemakers in our community, and today I am so lucky to have Victoria Magliacane with me. Hi Victoria, how are you.
Hi, good morning Jodi. I'm doing well, thank you.
Great, thank you so much for being here and I'm going to read a little bit of your bio, as I always like to do because I never want to miss anything, so hang in there with me.
Victoria Maggie Kane is a member of the Investors Bank senior management team currently serving as senior vice president market executive in the retail division. In this role she oversees the bank's consumer and business banking activities in a market of 56 branches spanning seven counties from Middlesex to Camden. She leads a team of over 300 professionals, providing a relationship based approach designed to meet the needs of consumers, businesses and the communities in the market served.
She currently serves as a board of trustee, we're Ocean County College Foundation, Executive leadership team for American Heart Association Go Red for Women and the Executive Leadership Committee for Leading Women Entrepreneurs. She also has been a strong supporter of the Girl Scouts of the Jersey Shore and has served as co chair for their gala and golf committees for many years. She's a founding member of the Investor's Bank Women's Leadership Council, as well as the Women's Leadership Council at Ocean County College with a focus on mentoring, coaching in news and in the communities.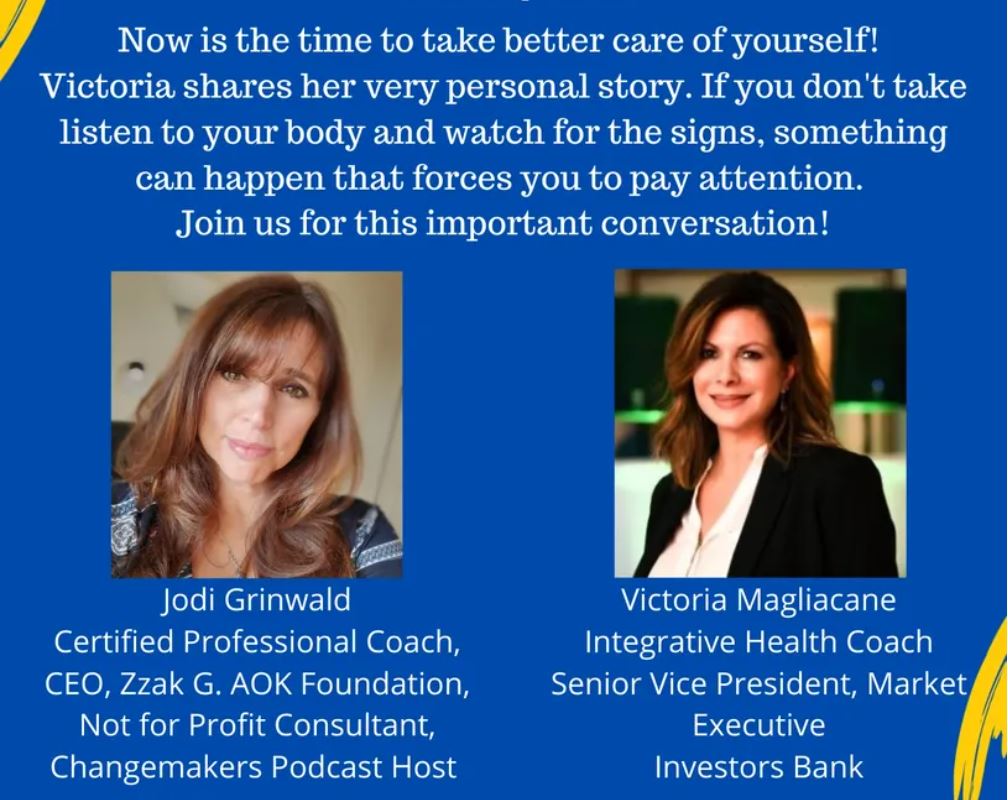 Victoria has been recognized with several leadership awards throughout her career, most recently with the Golden Valley Leadership Award. Ocean County YMCA Red Triangle Leadership Award and Girl Scouts of the Jersey Shore Women of Distinction award. Congratulations, Victoria, those are all such great accomplishments.
I'm just gonna add one more thing in here that Victoria enjoys spending time with her two sons, and mini golden doodle Maggie. She's also an integrative nutrition health coach which we're going to learn more about and loves playing golf, Pilates, yoga jogging and traveling.
Hey Victoria, that was amazing and such a great bio and thank you for sharing all of that with us.
Thank you, Jodi, I'm exhausted just hearing it.
I was reading and thinking to myself, all of those words mean so much more than what they show on paper. There's just so much goes into winning an award or, you know, managing 300 people or 56 different branches over multiple counties, it's easy to say it but it's, it's very different in day to day. Yeah, and we're gonna learn more about that in a little bit but I want to take you back a little bit Victoria because I always like it when our listeners get to learn more about the person that I'm interviewing. So go back a little bit in time and talk a little bit about where you grew up, you know yourself as as a younger child what were your aspirations, what did you think you were going to be doing career wise.
Yeah, so I grew up, I've always been an ocean Monmouth County girl so always a New Jersey. Grew up in Monmouth County as a child, we moved to brick when I was in fourth grade. Youngest of four siblings. In fact, my oldest brother is 18 years older than me. And then I have a sister that's five and a half years older than me and a brother that's four and a half, so I was sort of I say it in the early 60s I was that Oops baby. Back then at 37 or 38 years old, it was sort of unheard – of not common – for women to have children. So, I was a little bit spoiled, I was a little bit of a tomboy.
It's interesting, as a child, I never thought of banking. Math was never a favorite thing for me so I always kind of equated banking to math. And what I learned when I did get into banking is it's really about relationships. But when I was very young, I think, you know, hindsight I look back and I say always had those natural leadership skills. I always wanted to be the teacher. I would set up teaching in my garage for all the kids in fourth and fifth grade and, and I would teach them all how to roller skate and I always had to be like the one in charge and teaching and and helping. I always had a desire to help people and I always wanted to read, and build relationships.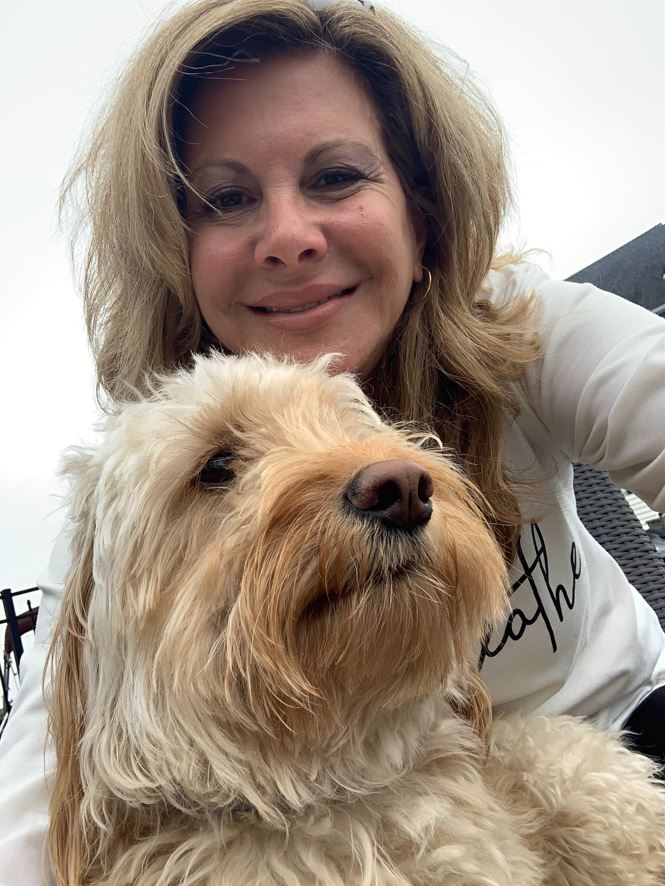 My first job was in a burger place. So if you if you think of KFC and McDonald's and you mix it together, that was the place I worked at. I changed my birth certificate – I whited it out, you know how creative I was at 15 – I whited out my birth certificate changed the date so I can get a job there when I was 15 Instead of 16.
Oh my goodness!
And I did that for a while and then I moved on to a clothing store and I just stumbled across the bank one day and just stopped in and applied, never thinking I would stay in banking, I thought this is just going to be a stumbling step till I get to where I want to go. I just ended up loving it, and I made a career out of it from the early 80s until now I've been in banking.
That's incredible. And to think that you were whiting out your birth certificate, we do not encourage that.
No, we do not encourage it.
But that was, that's very interesting. If I were to ask you what do you think that that very first job and the job you have now have in common is there something that just pops into your mind because seeing when you think about where we started and where we are today, there is usually this common denominator and common thread.
There 100% is. I tell this to the younger folks that are joining the bank now, one thing from decade after decade after decade that really hasn't changed is the customer experience, and building relationships. So when I think back of what I did early on, just because it was a hamburger and a French fry and a Coke, you still had to provide superior service and we still do that today in banking and in most service industry jobs.
Absolutely and you said, you said something that I agree with 100% When I think banking I think math, right. You don't you don't think that first thing of it is all about relationships because when you think about it, people, when they, when they find a bank right they want to build that relationship over time because people don't change banks as quickly as they do, you know other things as it's all about that relationship so that's important about building those relationships,
it's very true. You know in banking and like any other service industry you sell a product, the products the product but the people make the difference. And so I tell the young adults that are joining our organization, you can have a master's degree, you can have whatever degrees – they're wonderful I wouldn't take that away and I think it's important I encourage it. I pushed my two children through college and they both have their bachelor's degrees. But what you cannot learn in a classroom is soft skills. You either have that emotional intelligence or you don't. And it's very hard to teach it.
That is so true because it doesn't matter what you know, what you learn, and if you can do PowerPoint or Canva or whatever new program comes up, and the things that they're teaching in college about when it comes to their majors… relationship building is not taught. It's not taught in the same way, with the same steps, to make sure that the kids understand the importance of building from the beginning. Transactional relationships because they have a goal. And it's hard, that's, that's a hard thing to learn, I think. So when you graduated from college, and you went to Wharton, is that correct,
I did, I you know it was the never ending learning. It took me a while with college because I stopped, I started, I stopped I started. Academically after high school I had no desire to go to college. That desire really started to kick in later in my 20s. When I was raising children and working full time I was going to school at night. And then I continue that through the years, and then did the Wharton School, just in fact, while I was here at the bank Investors Bank sponsored that for me. And it was a wonderful program.
Can you tell us a little bit about the program you're were in?
Yeah, so, you know, it was a week at Wharton so we stay there for a week. I got the opportunity, talking about building relationships, to meet wonderful women from throughout the world actually. There were a couple of women from Turkey. There was a successful business CEO from Washington DC and Virginia and all over. We still stay in touch and that was 2012, 2013 I did that, but the program was quite intense. So it's not a vacation from work for a week – you're working from 7am till 7pm or later at night. A lot of business acumen, emotional intelligence, learning how to put business proposals together, learning the skills of networking and influencing people. And so we had different professors for each of the different courses and then in the evening we had breakout sessions where we had to do case studies, so we had working dinners just essentially every night. But what a wonderful experience, and just a wonderful one week of education there.
That's, that's wonderful, incredible. That's great. And so when you started in Investors. What was your role there?
So when I started in investors in 2008 I started as a regional manager, and back then the bank had 46 branches so think about that today I have 10 more than the entire bank had in 2008 So the growth we've had is incredible. But I had not really heard of Investors Bank. 've worked for several local banks throughout my career and they were looking for this position which was at that time, quite a high level position. My oversight at that time was Monmouth and Ocean County so it really fit in perfectly for me and my sweet spot in banking – the area's I know, the client relationships are built. And so my oversight was very similar to what it is today. It was a handful of branches, I think it was maybe 15 or 20 branches at the time. And same thing, oversight of the people development, the customer service, the business development, the community involvement. And so now it's just that a larger scale but very similar.
Okay so yeah so just growing within, within the same realm. That's, that's wonderful and incredible and how many years ago, are you there now.
So I've been here since 2008.
Wow. Yeah, and it's so nice. I love talking to people who have been in their roles for long amounts of time. I think you build roots, and community within your own organization that way and it's it's so nice to hear.
I think you know people have to be open minded, that's one of the, you know, the lessons learned for me is being open minded because when I arrived here I thought, I'm not going to stay very long, I don't know that this bank is really right for me. It's not well known and it was just coming in at the right time that Investors was starting to grow incredibly. A very dynamic leadership team, same leadership team that we had in 2008 the same vision the same core values so that consistency with the messaging has been critical. A very giving organization we get back to the community quite a bit through our foundation. And so I look back now and I say well in 2008 I'm thinking I'll maybe I'll stay a year or two and I'll start looking to see what's better out there. And when I started to settle in and realize this is really the place I need to be. It was just feeling like I was coming home in banking. And it's a good place for me to, you know, I'll end my career here right I like to say, at some point when I go off at the end of the fourth quarter of the game and I end my career, it will be at Investors.
Wow, that's incredible and your leadership team is amazing investors supports our nonprofit. You know the foundation has supported and so well, you know, it's amazing see it definitely is a great community of people working together, who care about the things that happen within their local community and that's a testament to the leadership and like you talked about the leadership that has been in place since 2008 – You're that same person, for the people that report to you, and who, you know, great thing.
So that's helpful all the way around.
Consistency amongst change, right? There's always changed but that's consistency.
Oh yes, we've had a lot of change within the last, you know 18 months or so it's been it's been a very interesting time, and I'm sure in banking – so much happened, you know, from March 2020. Can you share a little bit about how you and your team the bank shifted? Just to touch on that because I think that was, it's been such an important time it's just a crucial time for all of us.
Yeah and I think you know, early in the year is when, in banking, we start to crank up. We say, okay the years ended. We had holidays, restart our strategic planning, it's time to hit the ground running. We could pass all that nasty snow weather, and just about that time is when everything shut down and really like everyone else in this world we thought in the beginning it's just going to be a temporary thing we'll be done with this in a month or two and back to normal. And we very very quickly started to make some changes internally.
One of the things I think that we did really well is we we looked out for the communities we said okay, so, so many people are getting help, but who's not getting help? How are our elderly clients? How are our small businesses doing? And we have, at that time had a lot of outreach. We delivered groceries to customers all over the state that were in need and needed to help. Our teams were just out doing different things like that, you know just driving by in the car and and leaving a bag of groceries on somebody's porch. And then of course when the PPP set in, we were quite heavily involved in that.
I say this to show that we all are not perfect. First time out, we didn't do a terrific job as a bank we weren't an SBA lender, we had to set all that framework up. And so we, we let a lot of clients down initially, but I'll tell you during that second round, we took that time in between if you recall, you know that money went quick the first time and many companies got it that shouldn't have. They really didn't have it set up properly. But we took that time we learned from it we worked around the clock to 1 and 2am throughout the bank to make sure the infrastructure was in place and the minute they opened the floodgates for round two – we got every single customer through, and it was just a rewarding feeling for our bankers to know that they were able to help. And that's what we remember the most from that and it continued, I mean it still continues. We're out at Food Banks helping. We just delivered a foundation check to Fulfill, who continues to help Monmouth and Ocean County and other organizations throughout the state, with consumers and businesses that are still in need. So we sort of start thinking we're back to normal but I don't think we always realize how many people are still suffering, and there's still a lot of help that's needed.
Oh absolutely. The effects are gonna last for a long time, and not those people who may or may continue to be behind, and so that's one of the things I just love about what you said too is your honesty Victoria. Saying that we didn't get it right the first time and being honest about that. I think that's what makes people want to trust their banker or trust their bank, or anybody when they can be honest and say, We are human and we're working to improve the system, and do that. It creates dedication and commitment to those organizations who share that openly, so thank you.
I think it's important that I really want to share your story. You have a very interesting, unique, and a story that so many can learn from so many women can learn from. So there was a pivotal time in your career while you were there. And you personally for you that things had changed and so I'd love for you to begin sharing your life changing moment with everybody now.
Yeah, and I think this really applies to male, female, 20 year olds, 40 year olds, people that have families and children or not. But you know, fast forward through my career over the years, starting as a teller. I always wanted to climb the ladder, I always, you know, raised my hand. Oftentimes the opportunities took me further from home. A lot of times it was overnight trips when my children were young, you know, driving from Toms River to the Ironbound section of Newark. Two and a half hour commutes, and so you know the years of all that you don't realize because we go go go. I say women but I you know I shouldn't just narrow to women, but we have a hard time saying no. We always want to please everyone and we work work work. So I was the type of person that I would go 24/7.
Back when everybody had BlackBerry. I had the blackberry and I had the regular phone, and emails and my brain was constantly going and I thought that I was very efficient, I thought that I was a great time manager. And what I realized over time is that I was burning myself out. So I would go for the pedicures and the facials and massages, but inside I wasn't necessarily as healthy as it should have been. And surprisingly to people that knew me – you know, yoga, pilates, kale shakes and things like that – but the stress of life, whether it's your work life, your home life a combination of both. It starts to creep in. And then I think as you get you know when you're 30 and 40 I thought I was invincible. So I'd had the occasional cigarette and I thought I didn't smoke because I didn't buy them.
Really what happened to me is, you know, just less a little shy of two years ago, I was having chest pains, and it was the summer and I was kind of chalking it up to oppressive heat and I was playing golf and I'm just going to Pilates and I was ignoring the signs which oftentimes we do, we ignore the signs. I kept going, going, going, and ironically I allowed a second weekend to go by and continue to feel those pains and then you start to know.
This is what I say to people – you know your body better than anyone else don't ignore the signs – and I said something's not quite right. I ended up going up to the ER and arrived there and the funny part of it was, even then, the Victoria mindset kicked in and I see a gentleman getting out of his minivan with his son young son maybe 10 years old and wife, and he's struggling to get out. He's moaning and groaning and they're running to get a wheelchair for him. I said to my friend, I'm going to let him go in front of me because I think he's having a heart attack. Absolutely direct words – I'm going to let him go in front of me I think he's having a heart attack. We get in and I hear him in the stall next to me, and they've done the EKG and the blood work and I'm waiting for my results. I hear them say to him, you know you had a mild vertigo attack we're gonna send you home.
So off he goes and just about that time the attending physician comes in to me. And you know it's very nonchalant I guess they're assuming that I knew I had heart problems and I didn't. So he says to me the these are the exact words, you've had at least one heart attack, probably two, you may be having one now. Who is your cardiologist? I said I don't have a cardiologist, and why this came out of my mouth I don't know I think I was just in shock, but I said I don't have a cardiologist I drink kale shakes and I do yoga. That was my response.
The reality of all of that set in when they quickly were shoving nitroglycerin onto my tongue and calling in the cat team stat. And when I heard the word stat I said okay this isn't good. I've only heard that on medical shows on TV. And so, you know, several hours later I woke up in the ICU, and the cardiologist came out and my sons are 25 and 30 and by then they were there. And they said, your mom's a very lucky lady had she waited, she wouldn't have seen another weekend. You know it's still shocking to even tell the story, I'm coming up on a two year anniversary but it was really very life changing for me, because I still think I'm Superwoman, and I think we all do, but it caused me to make significant changes in my life. That, by the way, hasn't made me less productive. It's actually made things much better.
How have you changed in your switcher thought process that changed, like you said the productivity, hasn't changed, it's just what your opinion. So what does that thought process look like for you.
I made some changes. Obviously the social cigarettes went away and some, some minor diet changes, just to improve things they are a little bit more cardio. Carving out that time for those things for me were critical. And what they what they go through with you in the hospital is learning, perhaps how to meditate and ways to relieve stress. So clearly there's a connection and a correlation between heart disease and stress. But some of the things that I change, minor little things, obviously I changed my diet a little bit, but I've slowed down. Meaning that I don't have my phone in my hand all the time. I'll flip my phone into silence, if I'm in the middle of doing something and I'll turn it upside down. Whatever call, whatever it is it can certainly wait.
The old me would say okay – I'm in the shower – I hear my phone going and I'm panicking thinking who's calling? So now it just gets put on silence and when I get out of the shower where I respond to it. I'm much more thoughtful in my approach in building relationships with people. Before, I did it, and I enjoyed it and I had a lot of good, close friends and colleagues, but I always felt like I was thinking ahead of what I had to do next. And I was less interested or perceived to be less interested in what they were saying. And now I just slow down I really listen I'm not in a hurry to reply. And I feel much deeper relationships, I'm seeing things that I didn't quite see before. Maybe driving home from work I'll notice, silly things… the sky is very blue. Oh, look at that bird I never noticed before. But in order for me to slow down like that it was, it had to be very mindful.
So there's meditation that I'll do and I don't get quirky over it, it's not you know, crazy stuff, but just the deep breathing, clearing my mind a few times a day, making sure I get my cardio and just a good walk. That strategic thinking starts to kick in when people slow down. And that's what I mean by being more productive because if you're moving at such a fast speed that the creative side of your brain doesn't get a chance to kick in, and you notice if you're on vacation, or if you're relaxing, you'll start to have creative thoughts and that's not by accident that that is part of the chemicals in your brain kicking in. I do see a lot more of that and and people that know me well say something's different about you. And I'll say them, you know I got my hair cut or I did this or I did that and they say no no no no, there's something just different about you. You seem to be at peace, and very relaxed and just full of joy.
And so I call it my gift. And that's the reason why I call it a gift, because if that had not happened to me, I may not have slowed down. And only God knows what would happen. But the slowing down has just improved every aspect of my life and obviously, most importantly, my health.
You know there's so much in what you just said, so I just did some research that showed and I wish I could remember the source, but it was, they said that your IQ goes up when you're in the calm state. Everyone thinks in order to be thinking more strategically you need to be in a pressure cooker, which is the total opposite. It totally goes up, and there's been a lot of research not just the source one source that I had found but many, many different sources.
I have to say, I knew exactly what you were talking about. I, like yourself, was working 60 to 80hour workweeks. Two kids – running, doing, I worked for the American Heart Association, so I had a mission to help people. I was leading a team there, and my mission was to help people and when you have that type of job and role, that you want to make a difference, especially in the nonprofit industry – you're so mission focused, that sometimes you forget about yourself.
Without you doing that work you'd be lost because even though they're, you know the others that aren't connected to the organization are there because it's the American Heart or whatever the association is, you're the conduit. And if they do if you're not there that does change the dynamic of the relationships. I think that being effective in your role, no matter how much pressure you feel or how high you are within an organization, any role you have, it's remembering that there is a such thing as work/life balance.
I just want to bring this up because, being a coach myself, and we'll get into you being a health coach, is that people will come to us. So is there a such thing as work life balance? And my answer to them and I want to hear yours too Victoria. Yes there is, but if you're waiting for someone to come knock at your door to let you know that it's time for you to go take a walk or go relax, they're not coming. It's an internal thing that you have to create for yourself. You can read a book, you can do it all, but if you don't take the time it's not going to happen. So what would you say to those people as well?
Very similar to what you just said I would say there absolutely is, but you're the one that needs to create it. I've addressed several different groups throughout the last couple of years after what happened to me and I say to them, you know you're not doing anyone a favor unless you're taking that time for yourself. Because you're being selfish if you don't take that time for yourself where you might think you're being selfish to take it. I was a single mom for many years and juggling everything and, you know, very proud of all the accomplishments that I made, as a mom, and as an employee, and as a friend. I was proud of what my children did. But there was a price that was paid for that.
I say to people now and and kind of goes back to what I said earlier, doesn't matter if you're 20 and you're in college because that's stressful or you're 40 and you're raising children that's stressful. You've got to put that oxygen mask on yourself first, because you cannot be good for anyone. And so if you if you're under an exorbitant amount of chronic stress and you just keep going through it, your body starts to adjust to that chronic stress and thinks it's the norm, but it's wreaking havoc on your body. It's affecting your sleep and everything else. I do encourage people and I've helped several of my friends that that were maybe taking sleeping pills or not sleeping well or, you know, just struggling with being healthy. And then they slow down and they're getting walks in every day and just mindfulness around that, that's helping them sleep at night. And when you get a good night's sleep, not to mention that you look much better, but your brain is functioning so much better and your body's had an opportunity to heal. So I tell those folks, if you are not making the time, you better start to make the time. Because if not, everything else will suffer. And if it's not today, eventually it will catch up with you.
When my father passed away, that was life changing for me. I had a life changing event after I had my first daughter, I had a blood clot that I could have died from, which just came out of nowhere, which was awful. It shouldn't have to take a life changing event personally, like a near death experience, to jog your thought process and have that change because of the fact that, oh my gosh, I almost wasn't here anymore. We don't have to let it get to that. Through what you're teaching, through the things I'm teaching, and to all those who are out there teaching the same thing. We know this information. I say I'm a recovering workaholic. That I'm still recovering.
I'm going to check in with you on that, making sure in your downtime.
Thank you, thank you because when you're mission oriented as you know you're just kind of like go! But I appreciate that check in Victoria, because I tell you, sometimes even coaches need it, you know, trying to help so many other people. It shouldn't have to take that life changing thing to happen to you. So, if you were talking today to a group of CEOs that have huge organizations, their huge amount of responsibility on them, and you ask them the question, you know, how many of you have taken time for yourself in the last two weeks, and nobody raised their hand. What would you say you would tell them would be their first step that they should take to make sure that they take better care of themselves. To give themselves permission, that's the other thing, give themselves permission. How do they do that?
Yeah, I you know and I think customized to the audience but if you're talking about a bunch of CEOs what's most important to them are their people, hopefully if they're good CEOs, earnings, and the value for the shareholders. So I would put that spin on it. Say, do you want to increase shareholder value? Do you want to increase profits? Do you want to increase employee satisfaction and client satisfaction? These are the things you really need to do, and equate that to what we were talking about earlier with productivity and strategic thinking and cognitive thinking and carving out that time.
No one ever thinks it's going to be that. Certainly I didn't because I wasn't overweight, I was in good shape. You know when you line me up against three or four of my very close friends they all would shake their head and say, you would have been the last person in this group that we would have thought this happened to.
Plus you had your kale shakes!
But the underlying difference between me was the level of stress in my life that perhaps they didn't have. And that was the difference between me and my three older siblings. So I think it goes back to stress and how we're managing it and the impact of stress on sleep, and everything else that works around that. But if you want to be more creative, if you want to be more productive, if you want to increase employee satisfaction, clients satisfaction, earnings. Those are all the things as a CEO that you should be focused on first and foremost.
So you decided to become an integrative health coach, so tell us about that.
So that's a very interesting thing in that it is part of the personality, right? The overachiever. It's not enough that I bought a heart book and went home read it and went back to work. I had to take it to a whole different level. But what really drew me to that Jodi was the, the gap between the whole western medicine, environment, the hospital, the doctors, the prescribing pills. Obviously saving lives, so we'll never take that away I'm grateful forever. But what I noticed very quickly was that there was a gap between that and then the patient. So they sort of send you on your way, you know, put the stent in your some medications, here's some tips for meditation and breathing and go get signed up for cardiac rehab. And it took about a month with the insurance red tape to get into cardiac rehab so during that month. I was either going to sit there and feel sorry for myself or I was going to start to do something about it. And I started to read and educate myself and one thing led to another and I said, you know the answer isn't all of these pills always. And America is taking, I can't speak to other countries but I'm sure it's elsewhere, but we are taking so many over the counter pills, whether it's for headaches or indigestion or, you know, whatever the case may be and then you know you add on prescription drugs for sleeping and, you know, the list goes on and on and you wonder how much of that could be avoidable if we made the lifestyle changes that we spoke about.
When they say 70% of your immune system is in your gut, it means what we're eating really makes a difference in our health. And it also helps us to sleep better, you know, if you eat a lot of sugar you get that high and it's great and then you get the low and it's terrible. So I started to really read up on a lot of that and it led me to want to take it to a step further, and I did a 12 month program I did it the accelerated program in six months because I just was so excited and I wanted to get it done. And I learned an awful lot during that process. And, and so that is where the whole certification came in to become an integrative health coach and I thought, I can help people with my story but if I take it to the next level. I really have more credibility, I have my story to tell, but I also have the education to go with it.
That's wonderful. So, so now, do you work with personally private clients in group settings. What what are you looking to do with that part of your life now.
Yeah, so I you know I'm obviously still in banking, I'm taking advantage of the networks I have here, and I've had great opportunities the one you're giving me today and American Heart Association and other organizations and NJBIA with your help. But I want to start to take it to a different level at some point. I did create a business called Lavender Lifestyle LLC. I thought it was appropriate, because lavender was a lifesaver for me, when this first happened. I would breathe it and you know have the essential oils and lavender just became like the theme around my well being. So I thought it was appropriately named Lavender Lifestyle. And what I'm doing now is helping individual clients. I just took on a new client, a very young girl, 21 years old she's in college, she's stressed. She doesn't eat properly. So that's a whole different audience that needs help too that we don't realize we think when we're 20 and 21 – What do we have to worry about? But these young kids are under a lot of stress. So individual clients and then speaking engagements as well.
I know investors has been very supportive of the work you're doing because they totally believe I know in that health and well being part. So, how do people reach out to you and find you and how and what topics do you like to talk about.
I really, I try to specialize in sleeping, stress management, obviously, sugar, inflammation and how all of that correlates to disease. And so that's become my niche, and they can reach me at Lavender Lifestyle, LLC, and I can get you the additional information on my business card. Actually, I've got a separate phone number and I don't know it by heart but lavenderlifestylellc.com is out there.
That's perfect. That's great and I have to say too, I did have Victoria come on for the NJBIA as I'm the consultant for them for nonprofits, and so many people were just so grateful to hear your story. Grateful that you're willing to share your story with them, because it made them have self reflection, and we sometimes we just kind of go go go we don't self reflect. And I think that was, it was so nice because it was a business setting right it's a business association. And we had CEOs and nonprofits and for profits on there as well. And everybody the feedback was incredible because you did such a great job in sharing all that you had gone through,
I want to bring up a part that a lot of people don't talk about after a heart attack, the physical part yes you go to cardiac rehab, and like I said I you know working for the Heart Association, I was able to learn a lot about this video is a mental part of what happens to when you hit a point where, hearing the words that if you went another week, you might not have been here. When you said that, I got very choked up because that's very difficult to say and it's hard to hear. How did you go in from that during that time. How did you keep yourself in a place to go forward? I mean you're obviously built that way, you would so much determination and commitment to yourself, but for those out there who may be feeling….
Continue to see the full interview on YouTube at this link – https://youtu.be/L-GHPJhGXaY